18.02.2006

After a week off we returned to the Gasworks today. One good thing about this site is that we can leave our holes open at the end of a digging session, ready for the next time. We carried on with our holes today, slowly extending them and getting deeper. Stephen had the misfortune to find a large piece of metalwork in his hole, which defied all attempts to shift it. This meant that he wasted some time having to dig around it.

Meanwhile my hole was progressing nicely, with plenty of tat coming out. A good few feet down I reached a seam of well burnt ash, full of rust and broken Corona bottles. Suddenly amongst all the crud the base of a ginger appeared. After carefully clearing around it I pulled it out to reveal a nice Thomas & Edwards, Carnarvon, with the diagonal print and rounded shoulders. Not the rarest of gingers locally, but nice to dig nevertheless, especially on here. Not long after another ginger revealed itself, this time it was a prize find: a Noble's Carnarvon Dragon pictorial. Needless to say this made my day, and more was to follow when another Thmas & Edwards made an appearance. Four gingers out of the one hole was very unusual for this tip, so there must be a reason for this, and the more I dug the more apparent this became. One small corner of the hole revealed three Bangor City Mineral Water Works soda syphons, sadly all broken, as well as five or six broken hot water bottles, all printed "ASTONS/HOUSE FURNISHERS/CAERNARVON." Obviously this was a late throw out from a public house or hotel.

Not much else came out, but this was the best dig I ever had on here. Stephen had a few bits out once he had managed to bypass the metal thing in his hole, but nothing to take home.
The site is right next to a local river:




Stephen's hole, complete with metalwork: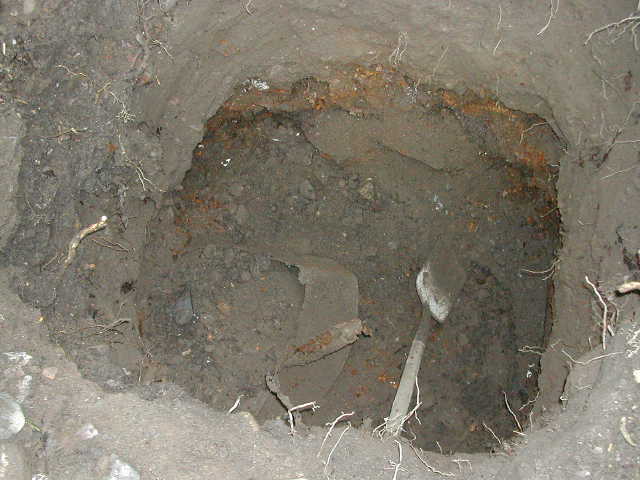 Bloody Hell!!! Two Carnarvon gingers: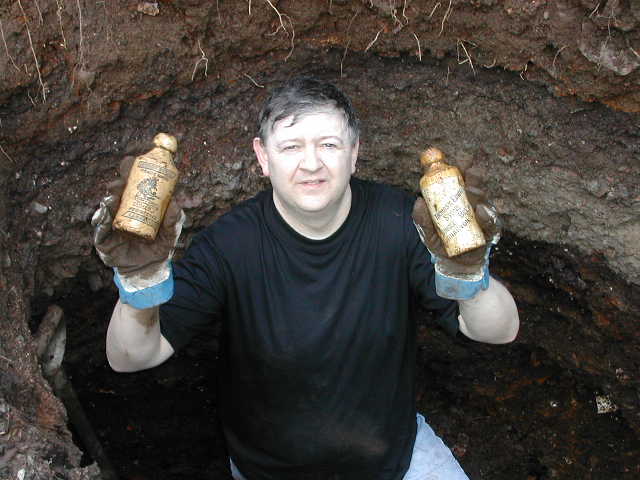 Later joined by a third:




A couple of the Bangor City Mineral Water Co. soda syphons: