14.08.2007

Tried out a new tip today. There are conditions applied to being allowed to dig here: a) it's strictly controlled when we're allowed on site, so it will be mainly late afternoons/early evenings, and b) no photographs are to be taken as the owner does not want the site to be identified. So shots of finds will have to be taken later. At least there is one good aspect to this in that the landowner's house overlooks the tip, so there can be no "unofficial" digging on it.

It's a strange tip. There is some horrible rock hard capping to negotiate your way through, which is a feature of many a site in this area, so a pick is an essential tool. Once through the capping there is a good depth of soft, dry ash, which makes digging a pleasure. The only drawback is that a lot of the aqua glass has some degree of sickness.

Unexpectedly, there has been loads of Llandudno stuff coming off (mostly William Hill, which makes me think that there was an agency for the firm somewhere in the area), even though it's nowhere near the town. There is also the usual fair spattering of bottles from other towns along the North Wales coast, along with the expected Carnarvon & Bangor items.

Some of the best bits today were the two Carnarvon gingers, and the Beavis patent codd. Biggest sickener was the broken Hill blue top, which was a real turn up for the book, and totally unexpected. This came out of the top six inches of ash, right underneath the capping, and must have been crushed by its weight, as it was complete, but in four bits.
Here are the take home bits for me: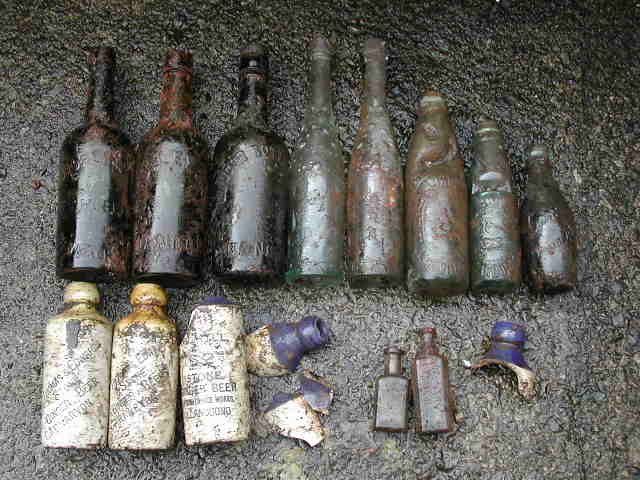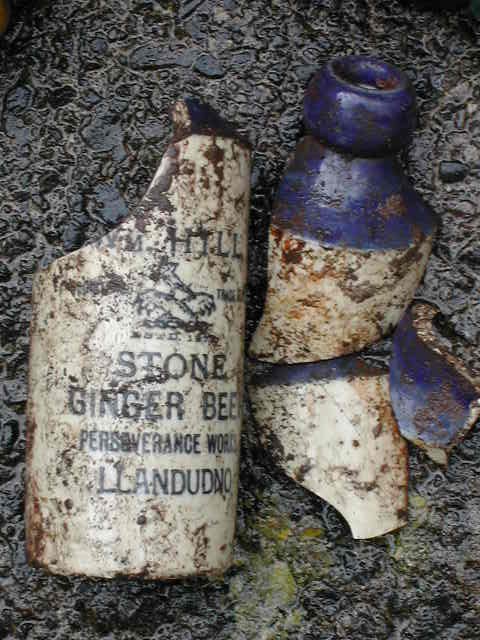 Stephen had the usual codds, skittles and some bulk. Will need to sort it out for me to get some photos of his finds the next day so that they can be included in the reports.