05.08.2007

We returned to "Hypochondriac Central" today, just in time for the intolerable heat. This, combined with the mass of flies, forced us to abandon our session mid afternoon as it was just impossible to dig.

It was pretty sparse today, which was a surprise after past visits here had produced a good quantity (if not quality) of finds. We decided to move further along the field today, but it proved to be rather a waste of time as the area had been well dug previously. First finds of the day was a Llandudno skittle for Stephen and a local aqua beer for me. Nothing spectacular, but a sign of plenty of bottles to come?
Soon a codd appeared:




But sadly, not to be: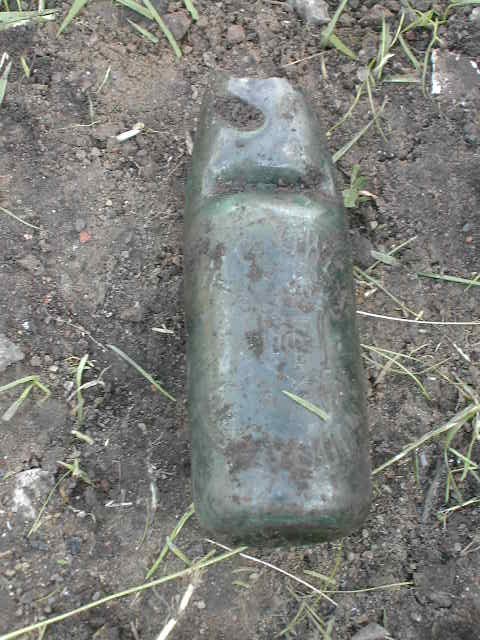 There was plenty of dross coming out, and a small handful of common bulk keepers, but the saddest find for me as a collector of North Wales minerals was a necked Rhyl Mineral Water Works skittle with the cricket bat and bails trade mark. The heat and the flies meant that our enthusiasm was waning, but there was to be a timely boost when this appeared: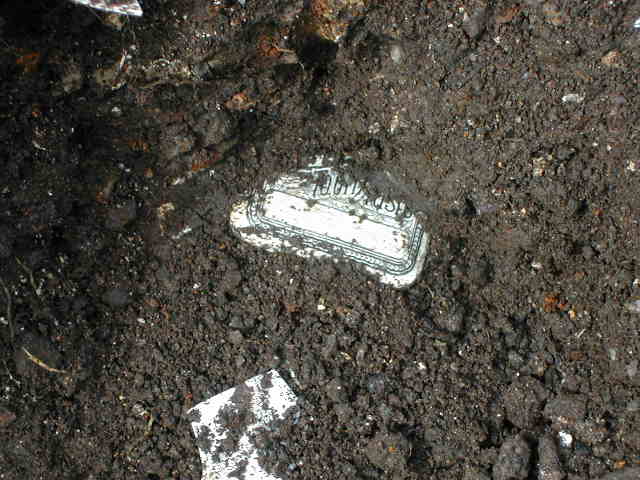 Now the last lid I dug came from the Llanfairfechan tip in 1976 (there has been a gap of many, many years of no digging between then and now though), so the anticipation was great:
Not the rarest of lids, and a pity that it has no chemist name on it, but a lid just the same. This gave us a second wind for a while, but it was finally decided to fill in and try another spot. I decided to return to the more productive area I dug on our last visit, while Stephen tried a spot further along the field, and it wasn't long before another lid appeared, sadly it was only half a Burgess.
Stephen starting his second hole: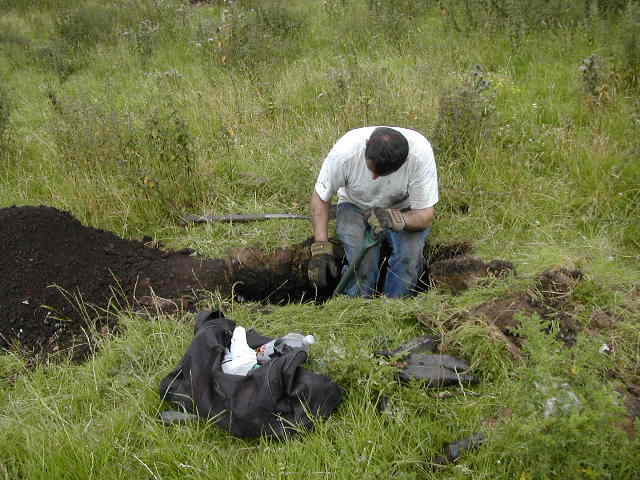 We were rapidly losing the will to live, let alone dig, as it was just getting hotter and hotter, and the flies were getting even more persistent, so the next hour or so witnessed only half-hearted digging. A few local beers came out, together with what appears to be a matchstriker??? for Stephen. Although damaged, this is a potters' advertising piece, and has a large amount of impressed wording on the back as well. Perhaps a suitable case for restoration??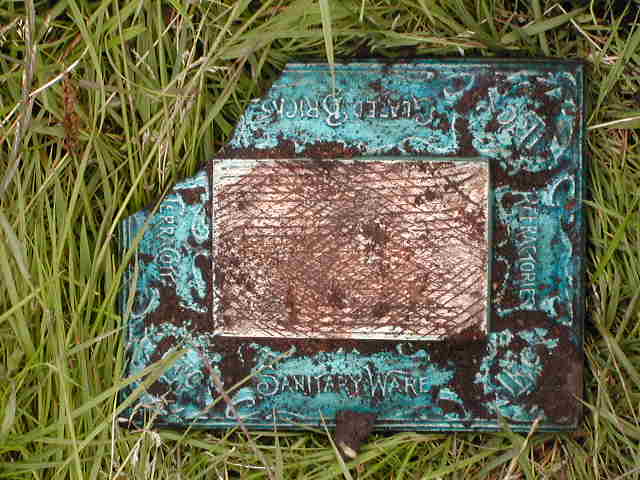 We decided to call it a day around two o'clock and filled in. It was a blessed relief to get back to the car and away from those persistent flies.
A few of the day's finds: some common minerals, and a couple of busted codds and gingers.